Amid hazy skies, a team of nine volunteers from Cicada Tree Eco-Place boarded a boat for St John's and Lazarus Islands to help clean up our beautiful islets 6.5 kilometres south of mainland Singapore.
St John's island was a medical quarantine station from the 1900s until the mid-20th century. Today, it is a rustic getaway spot for tourists and locals alike and home to the St. John's Island National Marine Laboratory.
St John's, together with Sisters' Islands and Pulau Tekukor, is a known turtle hatching site and has been designated as Singapore's first marine park. Sadly, it is no stranger to marine litter, especially plastic waste which may trap, injure animals or be mistaken for food and ingested.
Check out the video for highlights of what took place!
The cleanup was held as part of the International Coastal Cleanup Singapore (ICCS), an annual event which commenced in 1992 and is now conducted in 70-100 countries and coordinated by the US-based non-profit The Ocean Conservancy.
ICCS 2019 also took place on the same day as the Singapore Climate Rally at Hong Lim Park in the central business district, where 1,700 people – mostly youths – gathered in solidarity decked out in red to draw attention to the climate change crisis.
Participants armed with garbage bags, gloves and tongs scoured the beach and mangrove forest for over an hour, picking up a total of 11.5 kilograms of litter strewn across the coast.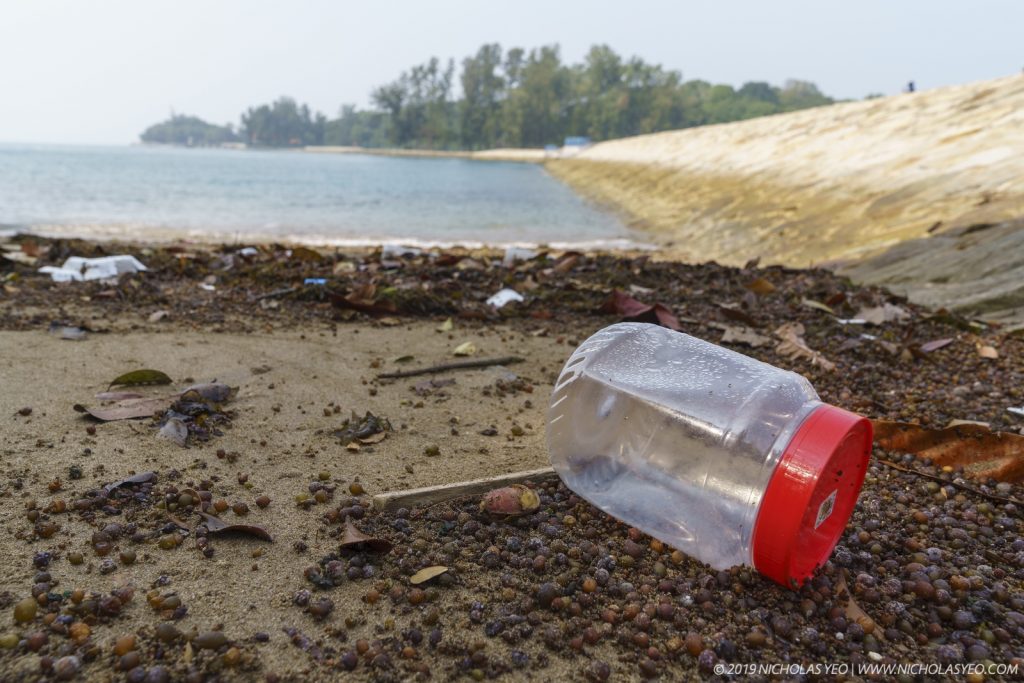 This is what they found:
233 styrofoam pieces
103 plastic pieces

75 cigarette butts

23 food wrappers
19 plastic bottle caps
18 strapping bands / raffia string
17 plastic straws/stirrers
16 pieces of foam packaging
12 plastic bottles
11 plastic cups and plates
10 rubber bands
8 plastic bags
5 ropes
3 plastic takeaway containers
3 cigarette lighters
2 aluminium beverage cans
2 metal bottle caps
2 plastic lids
1 plastic utensil
1 glass piece
1 plastic grocery bag
1 tobacco wrapper
Some unusual items we collected included: an old leather haversack, clothing, a slipper, black rubber tubing, fish descaler, wet wipes, pliers, an aerosol can, marker pen and sponge, among others.
Do your part to keep our islands clean. Bin your waste and pick up any litter you can see – everyone can make a difference for the precious marine biodiversity that we share our islands with!
Many thanks to all our volunteers including Captain Andrew, assistant Andreas Guttensohn, Teresa Guttensohn, Jeffrey and everyone else including Constance, Hasmin, Yin Yin, Emil, Allan, Shawn and KC.
---
Cicada Tree Eco-Place's ICCS cleanup was also featured on a ChannelNewsAsia report:
Check out photos of the event: