Cicada Tree Eco-Place celebrated our nation's 54th National Day by going outdoors with fellow Singaporeans and visitors to enjoy Singapore's amazing nature along the Rail Corridor.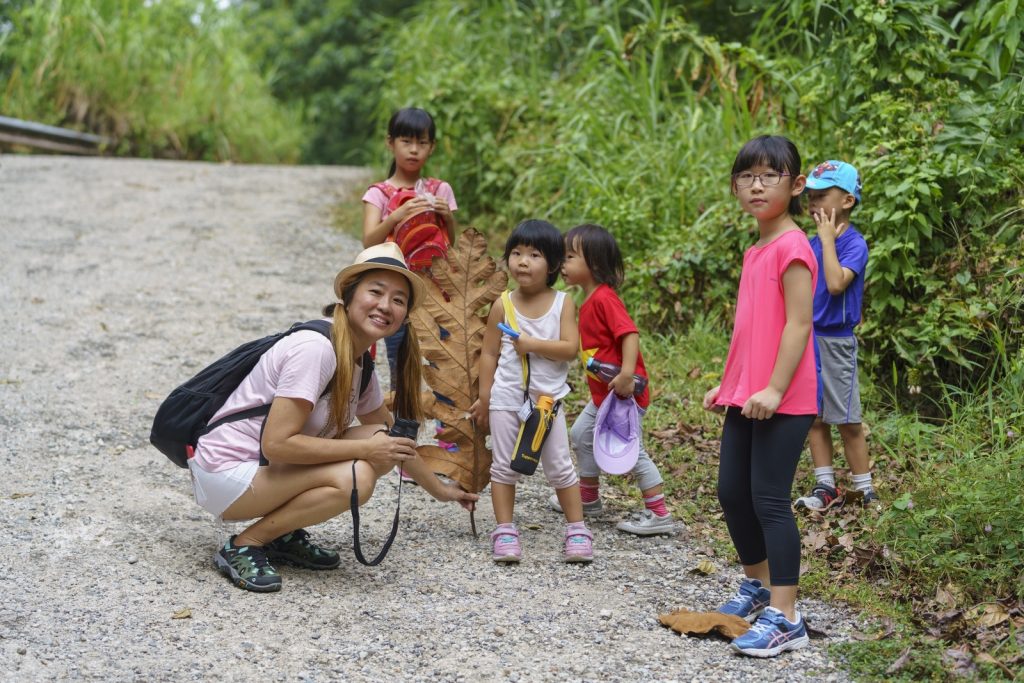 This follows in our tradition of appreciating our natural heritage on National Day! On 9 August last year, we took a walk at MacRitchie Rainforest to search for the native durian tree named after Singapore.
The free public guided nature walk started with a fun "leaf-yoga" warm-up session at Fuyong Park led by volunteer Bala and a welcome message on eco-living by volunteer Teresa.
Led by volunteer guides Andrew and Li Fang, participants and their families enjoyed a slow discovery walk along the forest's edge at Bukit Timah Nature Reserve, and encountered some of the interesting wildlife living in the area.
Many kinds of birds such as the Striped Tit-babbler, Rufous-tailed Tailorbird, Blue-throated Bee-eater, Greater Racket-tailed Drongo and Black-naped Oriole were heard if not seen, while a diversity of butterflies and bugs were found on the lush wayside vegetation.
Guides pointed out the various fruit trees such as durian and rambutan growing in the woodland habitat found here, together with a profusion of wildflowers, forest herbs and shrubs.
The lovely nature walk ended with a photo op against the scenic cliff walls of the Singapore Quarry, which has been turned into a freshwater wetland habitat.
Our beautiful natural heritage

Participants after the walk

Golden Orb Web Spider

Greater Racket-tailed Drongo

Fig tree

Wide-jawed Jumper (Viciria Praemandibularis)

Close-up view of Wide-jawed Jumper – look at the jaws!(Photo © 2015 Nicky Bay)

Nisitrus cricket

Red Tent Spider (Cyrtophora unicolor) – open the rolled leaf in the center and you will find the female spider!

A giant leaf

Wild boar diggings

"Leaf-yoga" by Bala

African Spiral Flag (Costus lucanusianus) which belongs to the ginger family

Participants before the walk
---
Thanks to all participants and volunteers who joined us in celebrating our nation's 54th birthday!
Acknowledgements: Big hugs to our volunteers helping out and sharing the love on that day – Andrew, Bala, Li Fang, Jeryl, Jeffrey, Mindy, Seetha, Nicholas and Teresa.