In commemoration of World Wetlands Day 2021, we conducted our first guided walk at Kranji Marshes, one of the largest marshland habitats in Singapore. It was Cicada Tree Eco-Place's first walk since the opening of Phase 3 and everyone was very excited. We were joined by new faces and familiar faces, all eager to learn about the biodiversity at Kranji Marshes.
Some of the fauna we spotted along our walk included:
Green Crested Lizard (Bronchocela cristatella)
Changeable Lizard (Calotes versicolor)
White-bellied Sea Eagles (Haliaeetus leucogaster) – pair
Blue-tailed Bee-eater (Merops philippinus)
Yellow-vented Bulbuls (Pycnonotus goiavier) in their nest
Stork-billed Kingfisher (Pelargopsis capensis) diving for fish
Red-wattled Lapwing (Vanellus indicus)
Yellow-Barred Flutterer (Rhyothernis phyllis) – swarm
Brown Shrike (Lanius cristatus)
Pied Triller (Lalage nigra)
Jacintha Eggfly (Hypolimnas bolina)
"It was an enjoyable walk at Kranji Marshes. Our guide Shao Hua has extensive knowledge on the biodiversity there. He was very patient and answered our enquiries to the best of his knowledge. I saw many creatures including the White-throated Kingfisher (Halcyon smyrnensis), butterflies, Green Crested Lizard (Bronchocela cristatella) etc. I also learnt that the Fishtail Palm has leaves with jagged edges, which make it look like it has been eaten. Its purpose is actually to prevent other creatures from eating the leaves."

Elsie lim
Check out some photos of the walk below! The walk was led by volunteers Li Fang & Shao Hua.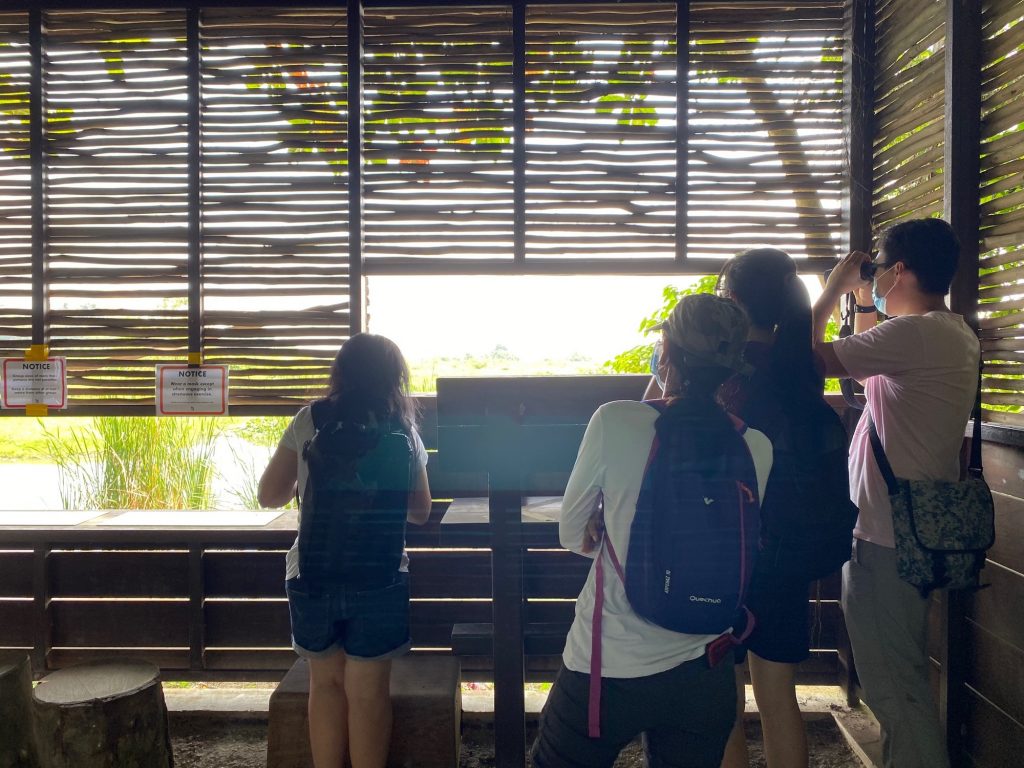 ---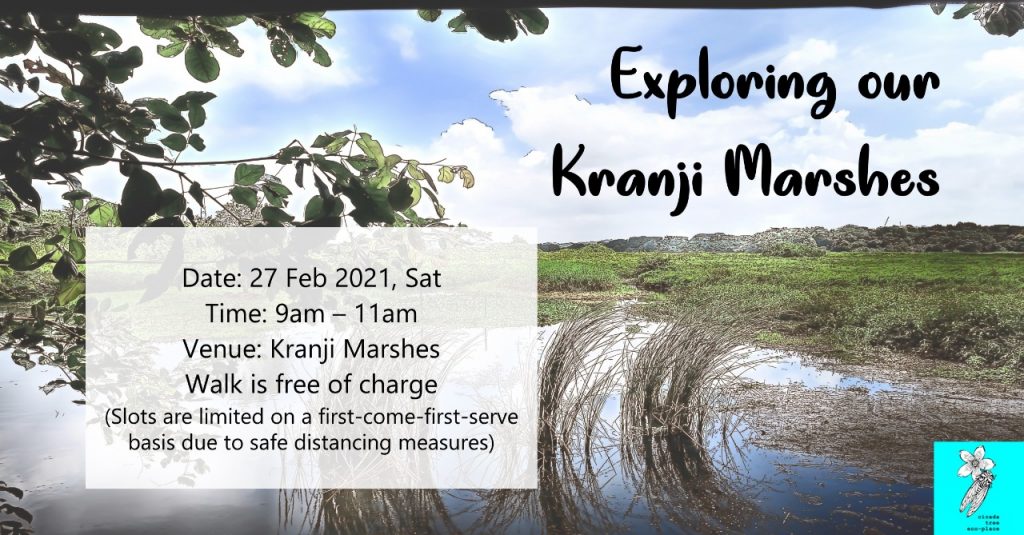 DESCRIPTION
In commemoration of World Wetlands Day 2021, Cicada Tree Eco-Place will be conducting a free public guided nature walk at Kranji Marshes. This walk is suitable for children 6 years and older.
Experience the diverse habitats within Kranji Marshes which contains one of the largest freshwater marshlands in Singapore. Walk along the freshwater ponds, lush forest, grass habitat, and get a bird's eye view of the marshes from the Raptor Tower. Get up close with the amazing plants and animals which call Kranji Marshes home. You might spot raptors, sunbirds, skinks, lizards, and many other birds, dragonflies and butterflies. Various plants and trees that are home and food for the Kranji Marshes fauna can also be observed, such as fig trees and palms.
Come join us, and learn more about the importance of wetland habitats such as Kranji Marshes.
Registration has now closed. Thank you for your interest!
Note: If you register for this event, you are confirmed a place, unless you register for the waitlist. We will contact you a few days before the event with more information. No individual confirmations will be sent.